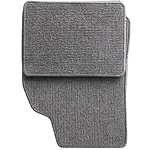 With all-weather floor mats, Santa Fe drivers can get durable, reliable protection for their automotive floors. Carpet mats, however, are available in a far larger variety of colors and can even be ordered to perfectly match vehicle interiors. At Mercedes-Benz of Santa Fe we want to help local motorists determine which automotive accessories are best for their needs.
Certain Lifestyle And Environmental Factors May Make All-Weather Mats The Best Choice
Due to their rugged, all-rubber construction, all-weather mats are ideal for drivers who regularly travel through muddy areas or who live in regions with rainy, snowy weather. These mats are easy to clean and guaranteed to prevent wet messes from seeping into the underlying carpet.
Carpeted Mats Could Be Necessary For Creating The Desired Interior Aesthetics
If you aren't in the habit of traveling with rambunctious pets, and if you don't have a history of tracking mud and other debris into your vehicle, carpet mats could be the right option for you. These products make it easy to create a seamless and well-coordinated aesthetic inside of your auto. Conversely, all-weather mats are usually offered in a much more limited and basic array of colors. To shop our extensive inventory of high-quality car mats and other accessories, come see us at Mercedes-Benz of Santa Fe now.