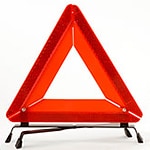 Roadside emergencies almost always come as a surprise. Not all do, though. Never ignore seemingly minor maintenance issues when driving. You could end up with a disabled vehicle. Still, problems can happen out of the proverbial blue. Be ready for them.
Having tools in the car to deal with an emergency helps. A tire jack is the most common, but keeping survival gear could prove valuable if the weather gets bad. Some water and trail mix won't hurt, either. Be sure you know how to use the tools, and have a reliable phone on hand to call for assistance
Understand basic tenants of personal safety, as well. Even in broad daylight, there are risks. Avoiding strangers and staying safely locked in the car could improve safety tremendously.
Make sure your car is prepared for driving in Santa Fe. Book an appointment with the service department at Mercedes-Benz of Santa Fe to fix any issues with your car.